Source Inputs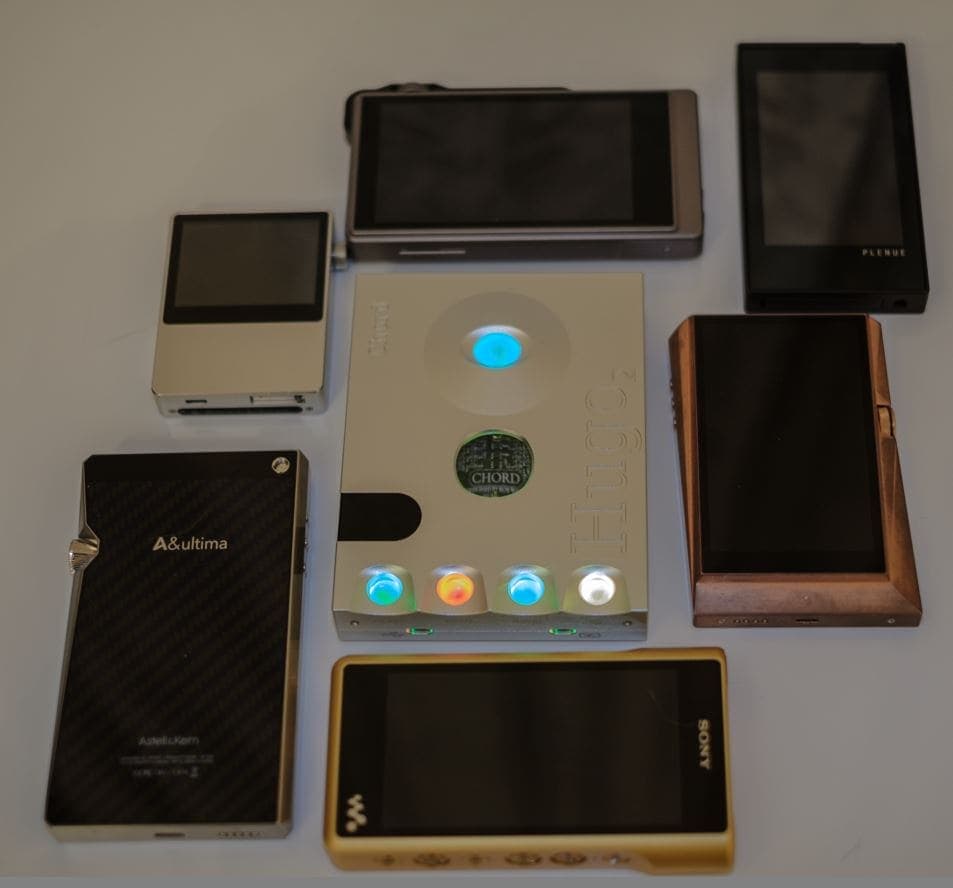 The Hugo 2 supports many digital input sources, each of them having slight differences on the level of sample support of the input data as shown.
Micro USB (White): 44.1kHz – 768kHz – 16bit – 32bit
Coax via 3.5mm Jack (Red): 44.1kHz – 768kHz – 16bit – 32bit
Optical (Green): 44.1kHz – 192kHz – 16bit – 24bit
Wireless: Bluetooth (Apt X) (Blue): 44.1kHz – 48kHz – 16bit
PCM support: 44.1kHz, 48kHz, 88.2kHz, 96kHz, 176.4kHz, 192kHz, 358.8kHz, 384kHz, 717.6kHz, and 768kHz.
DSD support: Native playback supported. DSD64 (Single) to DSD512 (Octa-DSD)
Using our vast array of inventory source stock the team at earphonia.com have been testing all the source inputs, micro USB, Coaxial, Optical and Wireless Apt X.
With the much more user friendly input selector options on the Hugo 2, both manually and via the remote control. We found that the Hugo 2 connected with the sources smoothly and quickly with no glitches or quirks.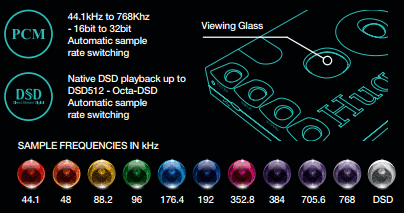 The Hugo 2 recognised the full range of sample frequency rates perfectly and displayed the frequency type via the attractive colours shown in the viewing glass.
Using APTx blue tooth connectivity we had no issues with drop outs or signal range or RF/WiFi interference.
We also tested RCA out using Crystal Cables, the connections were tight and secure.  The RCA holes are not large enough for the all the types of RCA cables out there as some have larger profiles than others so it is worth checking your size requirements especially if you are planning on buying some of the higher end RCA cables for use with the Chord Hugo 2.
The sources used for testing were: Cowon P1, Astell and Kern Ultima SP1000, AK380CU, Sony Dap, iBasso DX200, Sony XZ1 Phone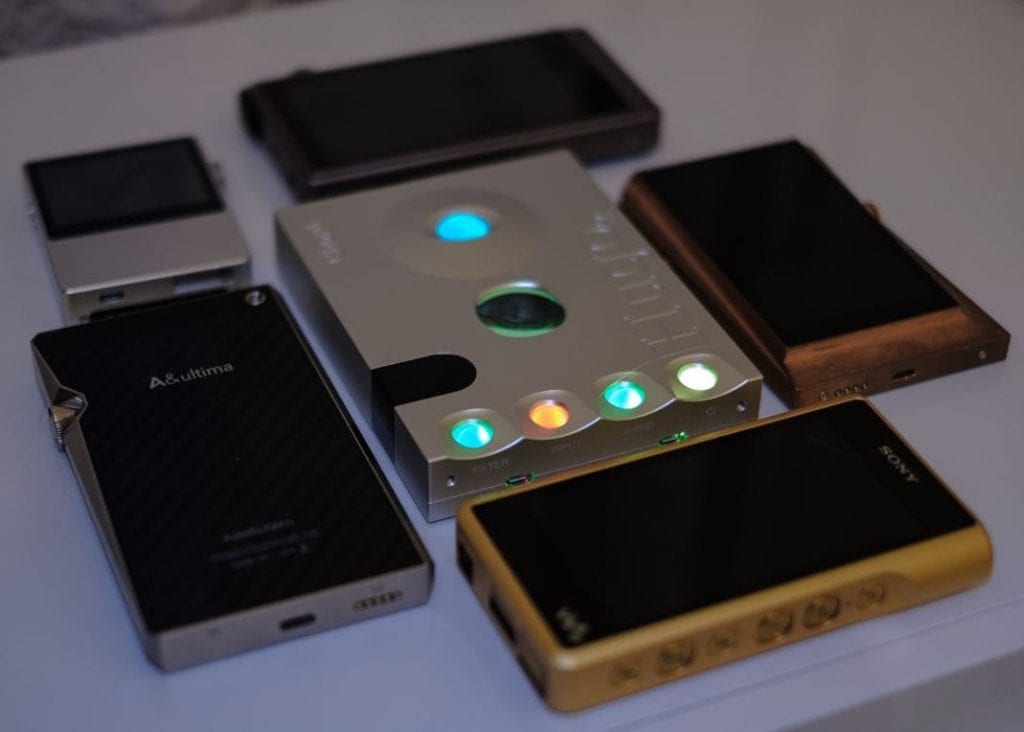 We used a number of connectors optical, HD USB and Coaxial all were detected easily and supported the specification listed sample rates and formats correctly.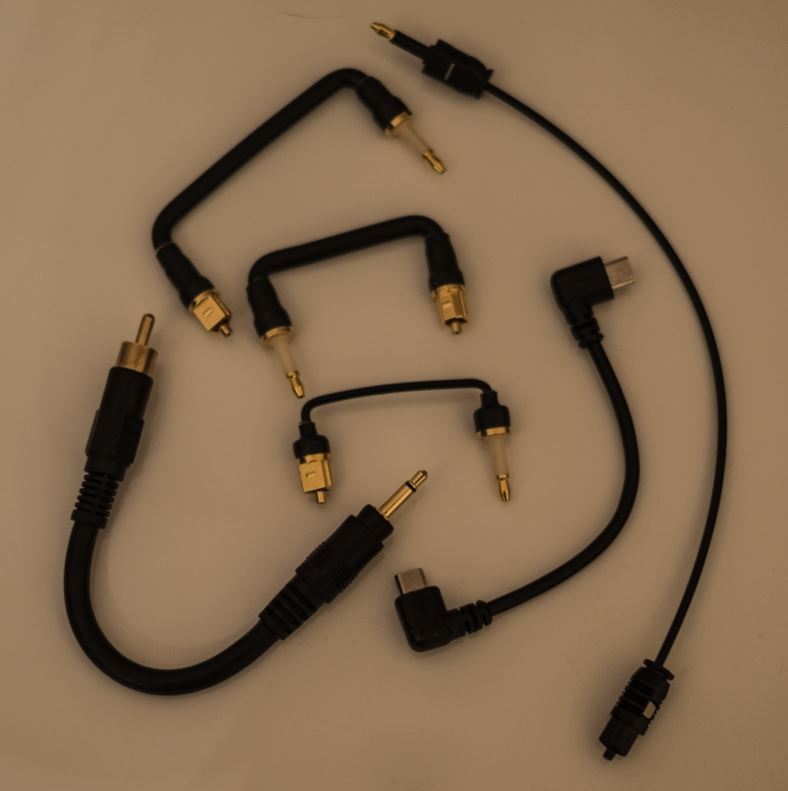 A few of the cables used for connecting are shown above.
Running redbook standard input to the Hugo 2 it is very musical, spacious and enjoyable but the Hugo 2 really shines when it comes to higher resolution recordings especially DSD format.
With constant playback battery life lasted an average of 6 to 7 hours.
Original Hugo Vs Hugo 2
Comparing the Hugo 2 sound signature with the Original Hugo, the Hugo 2 has much more musicality and breath of space between notes, staging is much wider and everything has more of a natural feel.
The Original Hugo has more of a clinical level of separation, still musical but with a brighter colder feel.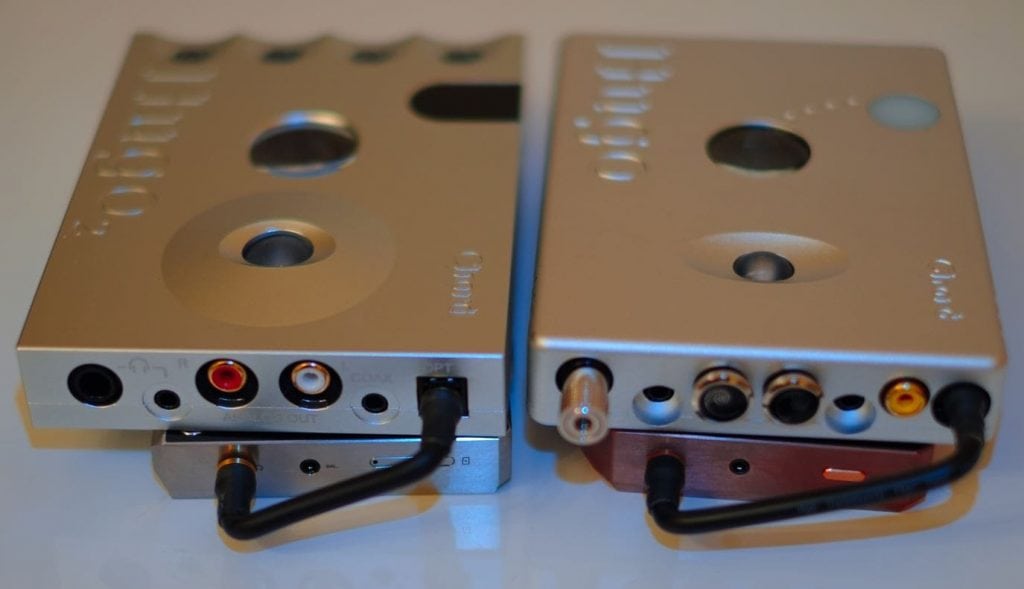 The Hugo 2 certainly feels like a step up and just scales so beautifully with a refinement in the precision of detail rendering and a much more immersive enjoyable experience. Staging is of a bigger depth level and darkness of background is much cleaner with the Hugo 2.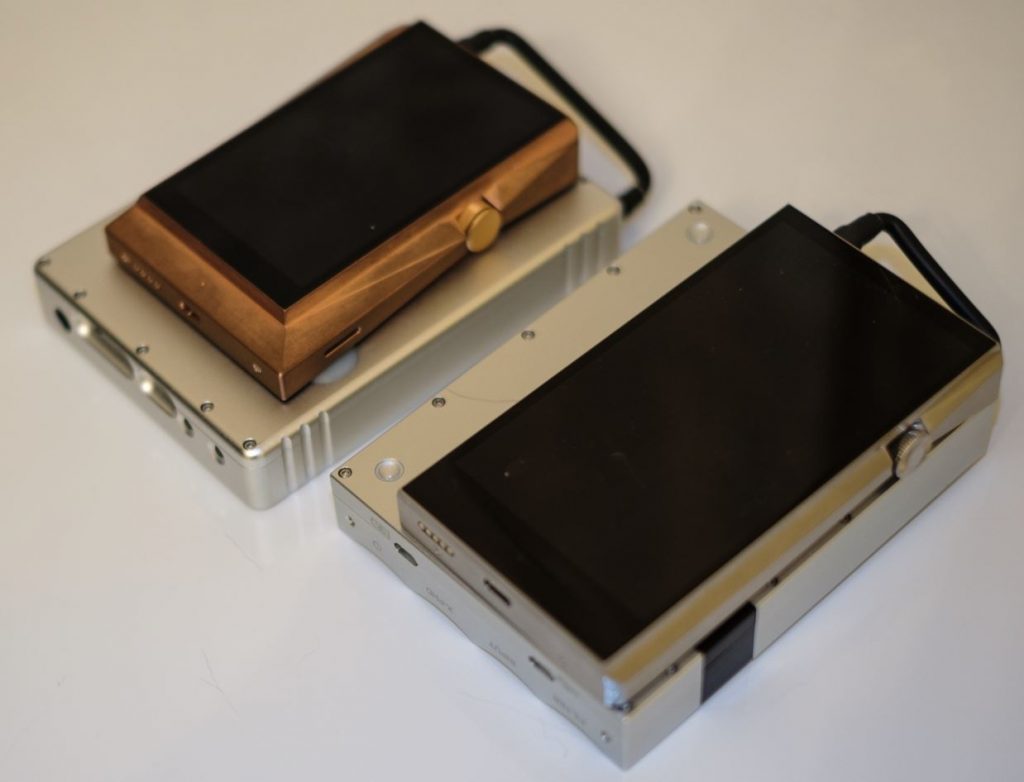 As mentioned earlier the Original Hugo is much more versatile in terms of stacking options, as you can stack either side of the DAC.
I still feel the Original Hugo is great value especially now on the second hand price market. I will certainly be hanging on to mine irrespective of the preference of the Hugo 2.