iBasso DX200
£749
Pros
Extremely good quality price performance ratio (possibly the best between all the DAPS I tried).
Very nice customisable options with different Amp Cards options
It drives power hungry headphones like no other DAP I have experienced(balanced)
Cons
Leather case quality could be better.
Some problems with the screen of first shipped batches
Only one microsd card slot present
Introduction (and disclaimer)
Being a fan of the iBasso house sound and their DX100 and DX90 models i decided in March to get their newest flagship model,  the DX200. Now after spending and enjoying a few months with it, paired with their AMP1 and also AMP2 cards I decided to make a review for well respected audio review website earphonia.com to share my experience and let others be aware of how nice sounding and versatile this DAP really is.
I am in no way affiliated with iBasso (as I said mentioned I have bought the DX200 player myself) although I have to be said that the first unit that arrived came with some screen and WiFi problems which were solved quickly by Paul at iBasso who quickly sent me a new unit after the initial defective unit. The new unit works perfect.  
*Also apologies for the use of mostly manufacturer stock pictures in this review, my camera is being sent for repair currently but was keen to get this review published quickly.
Specs and Measurements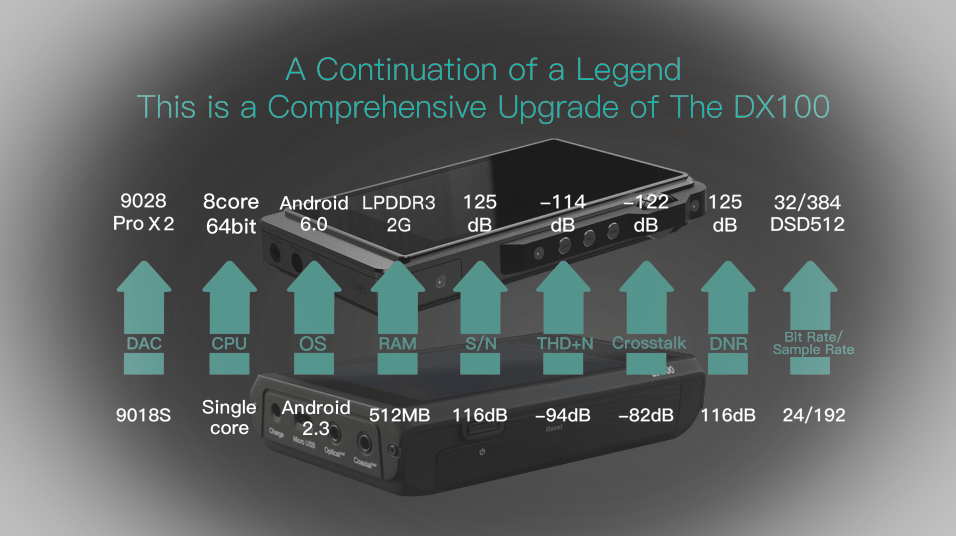 Dual SABRE ES9028PRO DAC Chips
Bit for Bit Playback Support up to 32bit/384 kHz
Support of Native DSD up to 512x
XMOS USB Receiver with Thesycon USB Audio Driver, Easy to use USB DAC
Dual Accusilicon Ultra Low Phase Noise Femtosecond Oscillators
4.2″ IPS Screen (768*1280) with Capacitive Touch Panel, Bonded by OCA
Mini Optical Output and Mini Coaxial Output. – 8-core CPU. – 2GB LPDDR3. – 64G of Internal Memory. – 5G WiFi and Bluetooth 4.0
Patented User-Exchangeable AMP Card
150-Steps Digital Volume Control
Audio Formats Supported: APE, FLAC,WAV, WMA, AAC, ALAC, AIFF, OGG, MP3, DFF, DSF, DXD.
Support for M3U Playlist
4400mAh 3.8V Li-Polymer battery (Play time varies depends on volume, music type, and AMP card)
Dimension 128.5mm*69mm*19.5mm. Weight 240g
Amp 1 Card
2.5mm Balanced Output:
Output voltage 6Vrms
Frequency Response: 20Hz-20KHz -0.16dB
Signal to Noise Ratio: 125dB
Crosstalk: -122dB
THD+N: < 0.0002%, -114dB (64Ω@3Vrms)
3.5mm Single-ended Output:
Output voltage 3Vrms
Frequency Response: 20Hz-20KHz -0.16dB
Signal to Noise Ratio: 122dB
Crosstalk: -118dB
THD+N: < 0.00032%,-110dB (32Ω@1.8Vrms)
Lineout:
Output voltage 3Vrms
Frequency Response: 20Hz-20KHz -0.16dB
Signal to Noise Ratio:122dB
THD+N: < 0.00025%,-112dB
Amp 2 Card
3.5mm Phone out:
Max Output: 3.2Vrms
Frequency response: 20Hz-20KHz-0.ldB
SN: 117dB
THD+N:0.00056%,-105dB(32Ω@1.8Vrms),-115dB@3.2V without load.
DNR: 117dB
Crosstalk: -109dB
Line out:
Frequency Response: 20Hz-20 KHz-0.ldB
SN: 118dB
THD+N :< 0.00018%, -115dB