During my entire audiophile journey, starting 5 or 6 years ago, I always have been an big EarSonics Fan. I think it is because despite the differences in sound signature between all the models I have experienced previously (SM3, SM64, Velvet and SEM9), all of them have strange  sense of musicality that appeal to me above all the technical performance of these IEMs.
Given that, when I was given the opportunity thanks to earphonia.com and EarSonics, to sample and review the EM10 EarSonics Flagship CIEM I got very excited about the prospect.
Manufacturer Details
HERITAGE
The EM10 is the fruit of all our partnership and experience acquired in recent years with audio professionals actors  as well as the audiophile technical culmination of the s-em9.
INNOVATION
More than a simple concentration of our knowledge, the EM10 goes further with the development of new 100% proprietary drivers as well as the exclusive use of our 3-channel asymmetrical output channel profile, always with the aim of improving sound quality and musicality through an ever more realistic sound scene.
SIGNATURE
The EM10 is defined in term of sound rendering by two important adjectives in the eyes of passionate audiophiles, that are musicality and stamps respect. Light motiv of EarSonics since its creation.
EXCELLENCY
The EM10 becomes the ultimate monitors of our knowledge and passion manufacturing custom high end products with the best musicality experience.
If your are looking for the best, the EM10 is your tool.
Specifications
Sensitivity: 119 dB/mW
Frequency response : 10 Hz -20 kHz
DCR: 26,6 ohms
Driver: 10 balanced armature drivers, HQ 3-way passive crossover with impedance corrector.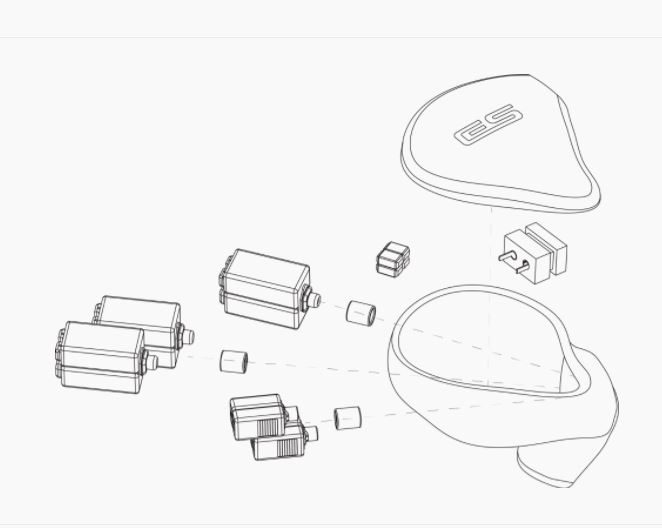 Packaging
EM10 with is detachable cable
Comes in a luxury ES packaging
1 cleaning tool
Carrying Case
3.5mm jack adapter
Manual
The packaging and accessories the EM10 is the typical of Earsonics, being identical to the Velvets and EM9 ones, except for the tips.
It comes with a semi rigid carrying case, a little brush to clean the CIEM and a ¼ TO 1/8 adaptor.
As I said also in my SEM9 review, the presentation is okay enough but not great, you would expect a little more for a premium flagship product, like a more luxury or protective carrying case.