Custom Earphone Fit
My history with Custom IEMs has been very poor in the past, with many fit issues due to either poor cast/scans of ears taken, inaccurate precision of shell creations  or both.
This was not the case with the Jomo shells, these are the best fit of any CIEM, in fact of any earphone I have ever owned, the only one that is as precise is the Samba Pro earphone also by Jomo Audio! They seem to have high quality control standards.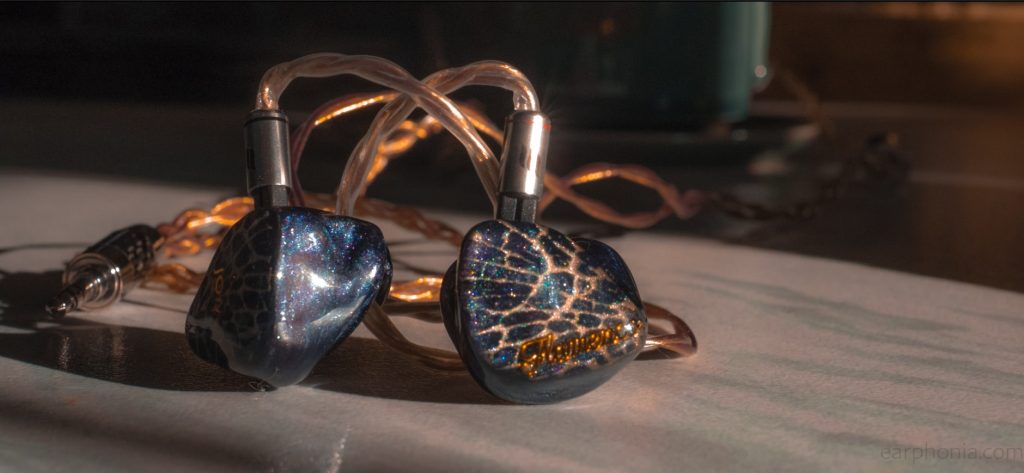 Rest assured you are unlikely to need refits if the 2 CIEMs we at earphonia.com have from them are anything to go by,  hope this helps push those of you sitting on the fence worrying about CIEM fit issues.
The design on the shells I choose are a 'feather' type pattern, a little like snake skin on a blue/black composition shell with glittery sparkles when in bright light and a blueish hue.
Proudly stamped on the shells is the gold 'Jomo' on one shell and 'Flamenco' in joined up signature style writing on the other, both are bold yet elegant.
Build Quality
The shells are smooth and solid with no air bubble imperfections. The bores look cleanly machined to let the signature flow unimpeded and the 2 pin socket is smooth and tight fitting.
As it is clear from these shells and many others Jomo has produced, his attention to detail and professionalism really is impressive and shows in the end result of his work.
His artistry and design compositions are bold yet contemporary, there are a number of options he provides but he is also able to incorporate your own unique designs.
They have a number of design choice options as shown below:
1. A La Carte
Each design is paid individually.
2. Design Package
Standard Design Package: Free of charge by default. Customer can pick up to TWO transparent colors.
Custom Design Package: Customer can pick ONE shell color(L1 or L2) and ONE Base Layer Faceplate (L3 or L4)
Deluxe Design Package: Customer can pick anything, but need to be feasible and doable.
3. CDP + A La Carte
Customer can pick CDP( one color & one faceplate) and add on extra artwork. For example CDP plus top layer faceplate, or extra laser engraving.
These earphones have a number of tuning signature options configurable via the set of 4 switches.
On the top right inner edges is a recessed area housing the signature altering switches, 2 on each side – Bass and High boost.
As these were set back they do not effect the fit at all and are relatively easy to enable/disable.  They appear plastic and I was initially concerned they make break or snap off, however this has not happened and I am not aware of any cases where this is the case.
The universal model has the switches a little externalised, I am not sure how these feel from an ergonomic perspective as we have the CIEM version.
The switches control bass boost and high boost, I personally preferred the default switch down mode but depending on your preferences you can enable them to boost the two regions described to accurate effect, not too much and not too little, while keeping the balance fair.