The team at earphonia.com will be reviewing a number Campfire Audio earphones and cables over the coming weeks.
Thanks goes to the team at ALO Audio/Campfire Audio for giving us the chance to experience these excellent high end audio items.
In the meantime we have the Campfire Audio Lyra II unboxing shown below: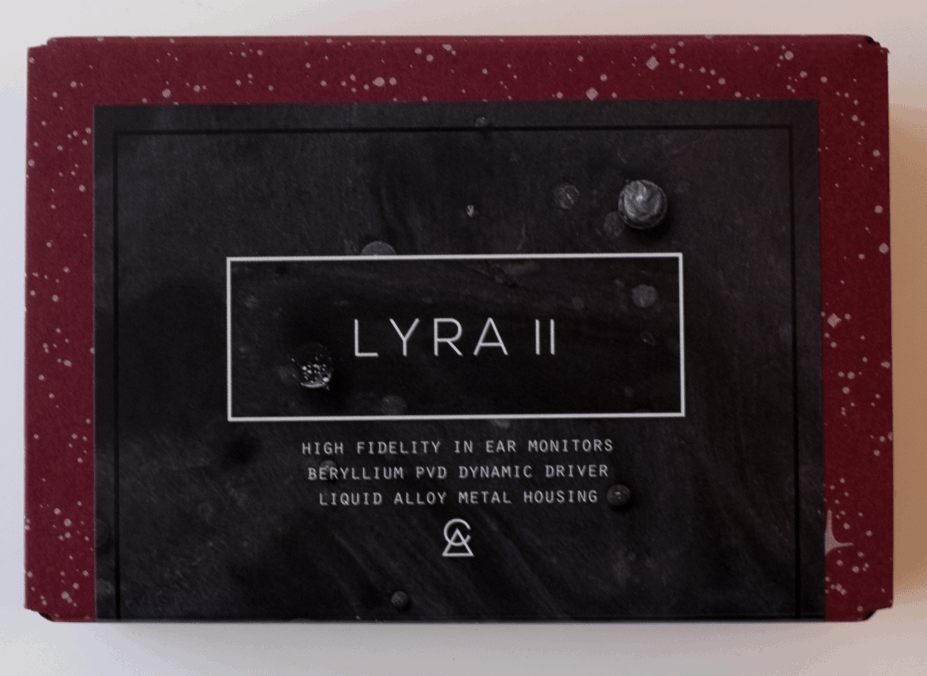 Authentic Campfire Audio Earphone Packaging.  USA Made "French Paper Company" Paper. Printed Locally in Portland, Oregon USA. Authentic Warranty Number Sticker – Matches Interior Warranty Card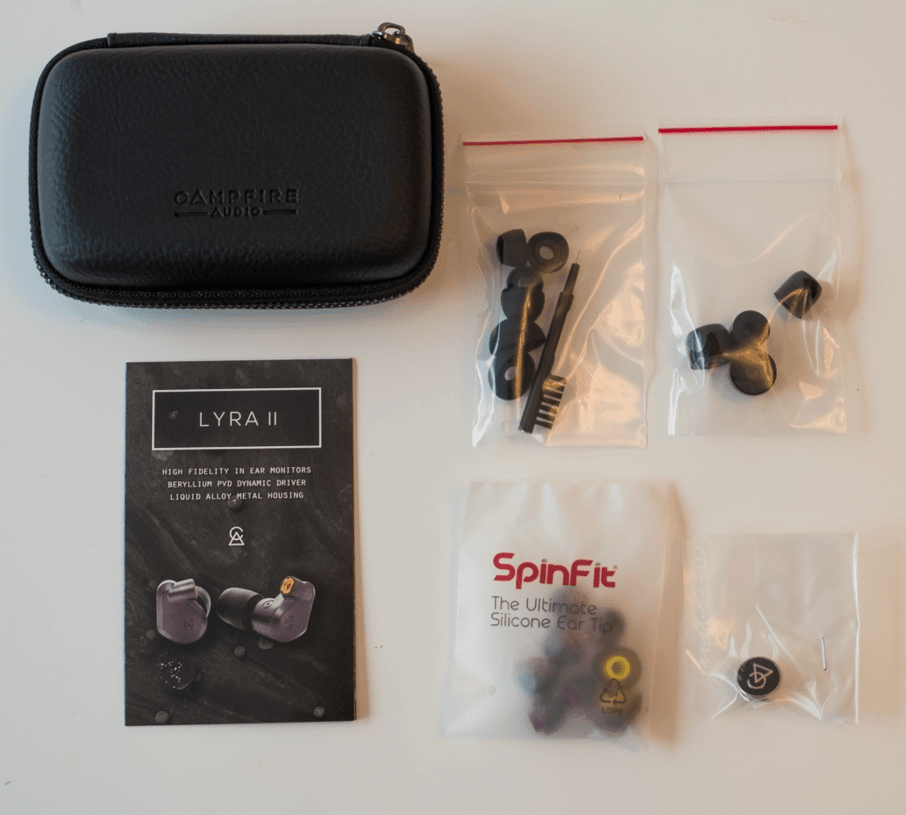 SpinFit Tips (xs/s/m/l) – Campfire Audio Earphone Tips(s/m/l) – Silicon Earphone Tips (s/m/l) – Campfire Audio Lapel Pin – Cleaning Tool
Excellent protective pouches protecting the earphones
Campfire Audio Litz Cable – Silver Plated Copper Conductors with Berylium Copper MMCX and 3.5mm Stereo Plug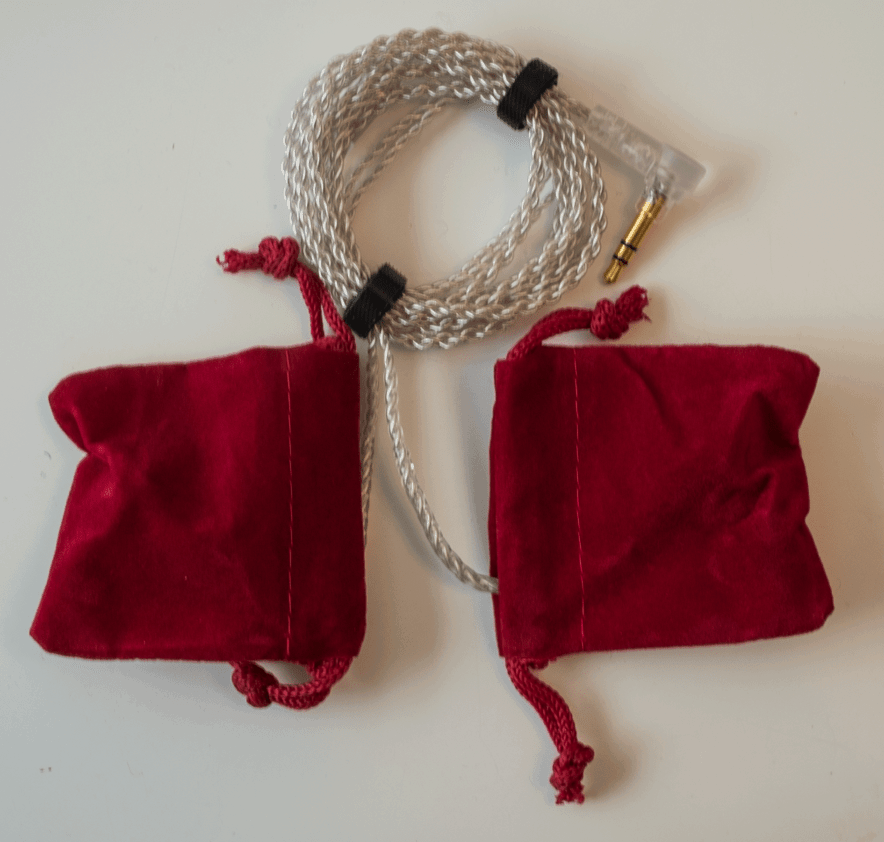 A single 8.5mm beryllium PVD dynamic driver and a unique liquid metal alloy housing to effortlessly deliver high fidelity music.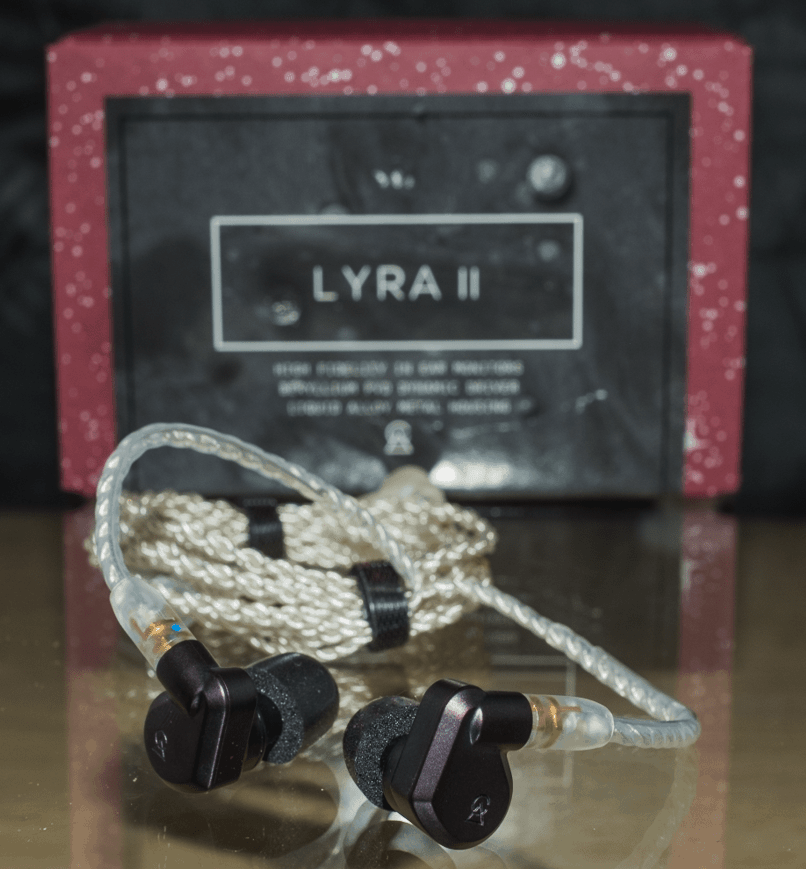 Manufacturer information:
Pure Dynamic Sound
Integrating a custom 8.5mm Beryllium PVD digaphram transducer into a Liquid Alloy Metal enclosure is something special.
The Lyra II convincingly conveys the warmth and emotion of high fidelity recordings. Natural top to bottom presentation is the signature quality of it's exceptionally musical delivery.
Beryllium PVD Diaphragm
Campfire Audio is proud to be the first company to use a revolutionary breakthrough speaker technology implemented exclusively for in-ear monitors, a Beryllium PVD dynamic driver.
Our revolutionary Beryllium PVD material is fantastic in our 8.5mm driver. Due to it's ridgid nature, it delivers clarity and dynamics with ease.
Liquid Alloy Metal Body
Ultra high density, remarkable mechanical strength and excellent acoustic properties compelled us to utilize Liquid Alloy Metal with our updated dynamic driver line.
Neodymium Power
Neodymium rare earth magnets, the strongest type of permanent magnet commercially available are utilized in the Vega's dynamic driver.
This powerful and compact magnet ( 3.8mm x 1.2mm x 1.3mm) provides the magnetic field for the voice coil's operation.
Super Durable Finish
Lyra II is offered with a PVD 'Dusk' finish. This visually appealing and long-lasting finish keeps your Lyra II looking great for years to come.
Extra Strong MMCX
Our custom Beryllium Copper MMCX eliminates the traditional shortcomings of the connection and harnesses all of its benefits. Beryllium Copper provides a robust mating mechanism; one that is typcially made from soft brass. This selection of a harder material extends the life of component and the earphone.
Individually Inspected
Close attention to detail is critical to delivering you the superior musical experience from our earphones. We test and pair each individual earphone, Left and Right, to establish its conformity to our firmly established tuning and performance criteria. The result is a pair of earphones made for each other that you can feel good about.
Specifications
5Hz–22 kHz Frequency Response
103 dB SPL/mW Sensitivity
17 Ohms @ 1kHz Impedance
Features
Beryllium / Copper MMCX Connections
Liquid Alloy Metal Shell
Beryllium PVD Diaphram Dynamic Driver
Review in due course on earphonia.com