The team at earphonia.com will be reviewing a number Campfire Audio earphones and cables over the coming weeks.
Thanks goes to the team at ALO Audio/Campfire Audio for giving us the chance to experience these excellent high end audio items.
In the meantime we have the Campfire Audio Polaris unboxing shown below: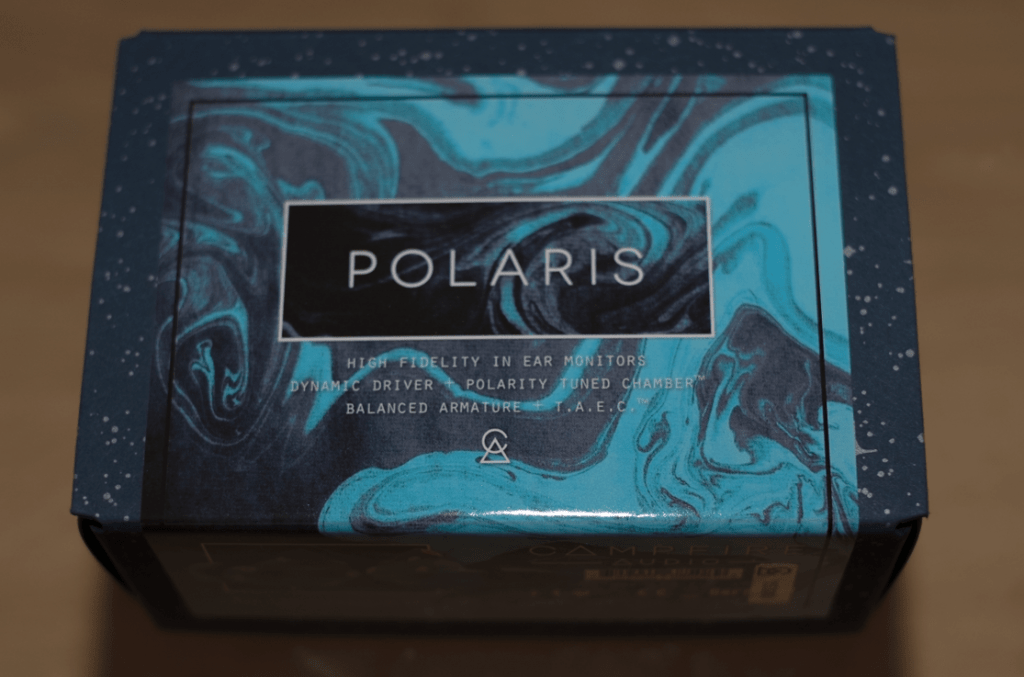 Authentic Campfire Audio Earphone Packaging.  USA Made "French Paper Company" Paper. Printed Locally in Portland, Oregon USA. Authentic Warranty Number Sticker – Matches Interior Warranty Card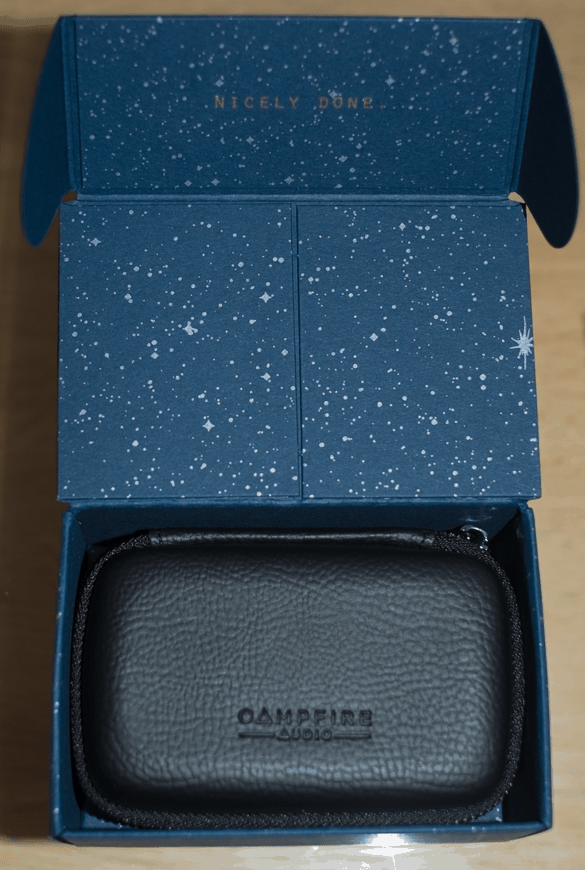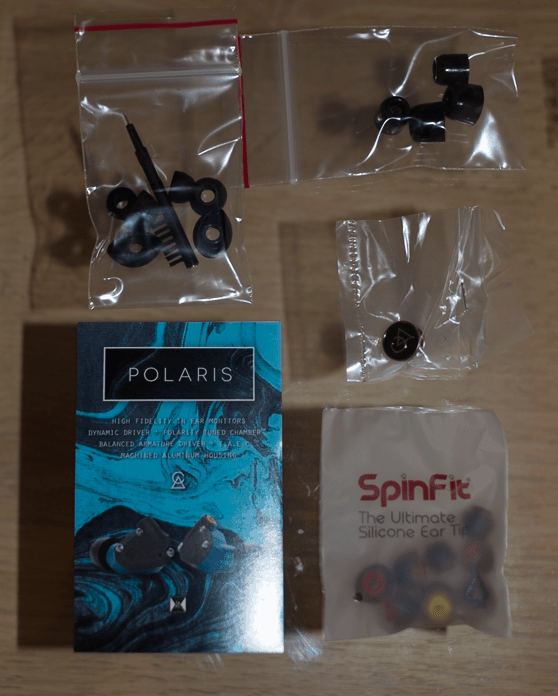 SpinFit Tips (xs/s/m/l) – Campfire Audio Earphone Tips(s/m/l) – Silicon Earphone Tips (s/m/l) – Campfire Audio Lapel Pin – Cleaning Tool
Exciting All New Hybrid Design – Emotionally Engaging and Highly Resolving. Designed and hand assembled in Portland, Oregon USA.
Manufacturer information:
Powerful Pairings
Our 8.5mm dynamic driver transducer is optimized for performance with our new Polarity Tuned Chamber™ design. 3D printed tuned chambers on both front and back of our driver maximizes the sonic performance.
A balanced armature transducer coupled with our Tuned Accoustic Expansion Chamber™ (T.A.E.C.) compliments the dynamic driver; seamlessly working in harmony to achieve audio excellence.
Polarity Tuned Chamber™
Campfire Audio is proud to introduce a new innovation to our dynamic driver design; Polarity Tuned Chamber™
3D printed tuned chambers in front and behind the driver allow us to optimize the performance of our dynamic driver. This opens up the sound and gives the driver an effortless power that must be heard to be appreciated.
Cerakote™ Lid + Anodized Body
The rugged durability of Cerakote™ meets the brilliant blue of anodized shell. A pairing that is both visually striking and able to stand up to the rigour of daily use.
Soaring High with T.A.E.C.
A single high frequency balanced armature driver discards a traditional 'tube & damper' tuning system for our new Tuned Acoustic Expansion Chamber™ (TAEC).
A 3-D printed chamber provides the acoustic tuning without compression. As a result, high frequencies are extended and open, providing an unmatched sonic quality unique to Campfire Audio earphones.
Dual Finish
Polaris is designed to combine 2 excellenct finishes; a Cerakote Lid and Anodized Body. This visually striking combination is as durable as it is good looking.
Superior MMCX
Our custom Beryllium Copper MMCX eliminates the traditional shortcomings of the connection and harnesses all of its benefits. Beryllium Copper provides a robust mating mechanism; one that is typically made from soft brass. This selection of a harder material extends the life of component and the earphone.
Individually Inspected
Close attention to detail is critical to delivering you the superior musical experience from our earphones. We test and pair each individual earphone, Left and Right, to establish its conformity to our firmly established tuning and performance criteria. The result is a pair of earphones made for each other that you can feel good about.
Specifications
20Hz–20kHz Frequency Response
97.5 dB SPL/mW Sensitivity
16.8 Ohms @ 1kHz Impedance
Features
Beryllium / Copper MMCX Connections
Machined Aluminium Shell
Cobalt Cerakote™ Lid
Anodized Blue Body
8.5mm Dynamic Driver with Polarity Tuned Chamber™
Single Balanced Armature High Frequency Driver with Tuned Acoustic Expansion Chamber™ (T.A.E.C.)
Review in due course on earphonia.com